SPECIAL TRIPS
JOIN US ON ALL DAY TRIP
SPECIAL TRIPS
JOIN US ON ALL DAY TRIP
ŽIRJE - WILD ISLAND EXCURSION
After a trip of about 2 hours we arrive on Camelback dive which is a massive drop-off dive from 9 to 40 m. This sight is one of best dives in mid Adriatic and it includes drop off with wreck on the bottom, two colour (rare) Gorgonia fan corals, schools of fish, hundreds of nudis, bug scorpion fish, conger and moray eels. Sight is extremely exposed as it is in the middle of the sea on a small shallow.
Than we change location and dive Stuka airplane wreck which is under government protection.This is one of best-preserved airplane wrecks as well as one of rarest ones, real treat as it is just on 25 m depth.
On finishing diving we go to Stupica bay where we have lunch in old stile konoba restaurant. You can choose between Fish, meet or squid and all the rest follows.
After lunch, we take all interested to visit old Ionian fortress just – 10 min walk.
Extra all day trip including special licence for Stuka wreck
EXTRA COST
55 EUR
Lunch is additional
~16 EUR
We arrive on Sokol (Hawk) island at 11:00h
Sokol is a offering a great dive where cliff starts 10 m above sea level and just continues deep down under water. This dive you never know what you will encounter, it changes with sea life almost on daily basis. Big ruff terrain full of boulders and small cracks where lobsters hide.
On finishing first dive we go to shallow Sisters, this sight is famous for abundance of life.
Snappers, barracudas, jacks, octopus, crabs and schools of sardines are making this place magical.
After the dive we visit Zlarin village, one of nicest old places with culture of red coral. Here we eat in nice little restaurant after walk through village.
Lunch is a Croatian speciality called Peka (under the lid cooking).
EXTRA COST
40 EUR
Lunch is additional
16 EUR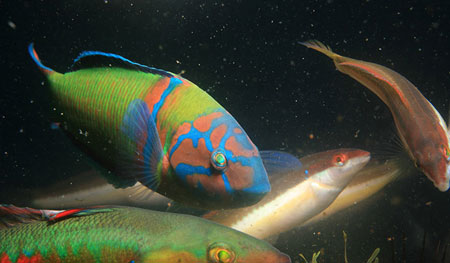 This is one of my favourite trips. 
We start from diving center at 09:00 and take around 1,5 hours to reach Mr. Bendy dive sight.


To describe this sight is impossible as it is full of twists and turns so just follow your dive guide carefully. Big drop-off full of Gorgonia fan corals, overhanging half cave, canyon all of this is in this one dive full of sea life.


Second dive we have on nearby island where we dive in cracks and through, 25 m long, Blue tunnel wich gives you that special blue/black contrast.


We do not have option of lunch on this trip so it is recommended you take a sandwich or some fruit with you.


We return around 15 h to diving center.